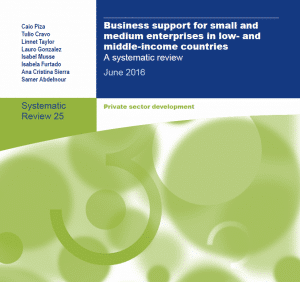 Policy highlights:
Findings indicate that business support to SMEs in low- and middle-income countries (LMICs) improves their performance, helps create jobs, and has a positive effect on labour productivity, exports and investment. Effects on innovation by SMEs is less visible.
When measuring impact by type of intervention, results vary. Matching grants (government subsidies, e.g. for training/marketing) show a positive impact on SME performance and employment. Technical assistance programmes have some positive effects on firms' performance, job creation and labour productivity. Tax simplification programmes improve firms' performance and generate jobs. Export promotion and innovation programmes positively affect exports and innovation, but no effect is found on firms' performance and job creation.
Further analysis is needed, especially in Africa. Current evidence is insufficient to draw firm conclusions about African development.