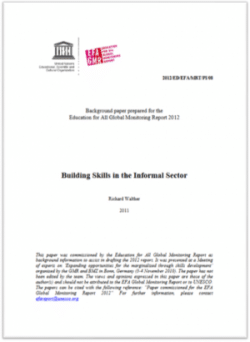 Policy highlights:
In many Sub-Saharan African countries, the informal sector employs 90% of the economically active population. Investing in skills development in the informal sector is, therefore, central to the continent's sustainable development.
The majority of informal sector workers are trained within the sector itself and for many higher education graduates the informal sector constitutes the only way of finding a job. This means that for sustainable skills development, policymakers should move away from programmes in formal institutes of education and towards training in the informal sector.
Measures to build skills in the informal sector include: 1) implementing programmes targeting educated young people, as they have the most potential to make a decent living and boost the growth of the sector as a whole; 2) providing apprenticeships on a large scale, as on-the-job learning is the most common way for youth to acquire employment; and 3) making sure that policies and programmes are also implemented in rural sectors.