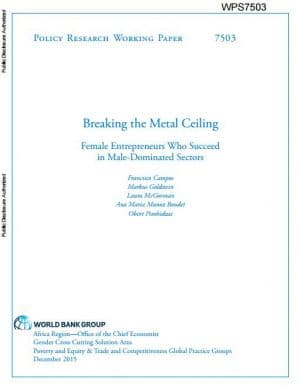 Policy highlights:
Although women own half of all non-farm businesses in Africa, most are entrepreneurs in low-added-value sectors such as hospitality, the wholesale and retail trade, textiles and other services. In Uganda only 6% of women work in male-dominated sectors.
Research in Uganda shows that women are generally not aware of the opportunities in male-dominated sectors, but informing them about the economic opportunities can encourage them to seek employment in those sectors.
Additional obstacles facing female entrepreneurs in male-dominated sectors include lack of support and guidance and low technical skills and experience.
Long-term support for these women is needed, as they are likely to come across obstacles. When providing support, it is important to realise that local community leaders are unlikely to approve of this.