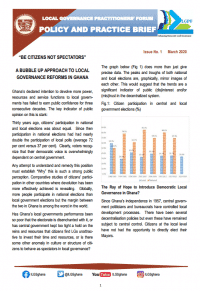 A bubble up approach to local governance reforms in Ghana
This policy brief by the Local Governance Practioners' Forum, one of the African Policy Dialogues (APDs), discusses the challenges with devolution in Ghana. Low confidence of citizens in their local governments, and under-participation in local government elections compared to national elections, have impeded effective decentralisation.
The brief shows that, although the 2019 constitutional amendment referendum was expected to address the challenges by allowing greater citizen participation in local governments including direct election of mayors, the referendum was cancelled. This brief also shows how this APD will establish a coalition of local actors to negotiate and advocate for local governance reforms.