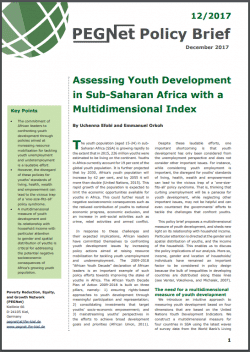 Policy highlights:
Youth development issues have gained prominence in the policy agendas of countries in Sub-Saharan Africa. The declaration by African leaders of 2009–2018 as the 'African Youth Decade' is an important example. However, the focus on employment issues has resulted in a disregard for social indicators.
The aim of this policy brief is to propose a multidimensional measure of youth development, which may be used as the basis for the design and implementation of policies. The different dimensions of youth development (education, health, living standards and wealth) are underlined, while differences across gender and in the geographical locations of households are also considered.
The statistics reveal an urgent policy matter. Youth development across the sampled countries is generally low at 0.377. Nigeria and Tanzania hold the highest average index scores at 0.423 and 0.418, respectively, whereas Malawi and Ethiopia hold average index scores of 0.362 and 0.387. Most youth lack access to basic toilet facilities, safe sources of drinking water, good flooring in their homes, and sustainable energy for cooking. Furthermore, most youth are either unemployed, do not have access to credit facilities, do not save, or are deprived of economic resources like land. These outcomes are linked to other socio-economic vices like the reduced contribution of youth to national economic progress, their economic exclusion, and an increase in anti-social activities such as crime, rebel activities and armed conflict. Rising youth engagement in criminal activities in fragile regions like northern Nigeria, Somalia, northern Kenya, and even Liberia and Sierra Leone (during their civil wars) has been traced to feelings of disenfranchisement among youth and rising household poverty.
Targeting household income is a first step towards youth development, because any policy action taken to improve household income is expected to have a spill-over effect on youth development. It is well established that household poverty aggravates poor youth outcomes. However, policies should avoid 'blanket policy design' – specific country and household dynamics should be considered.