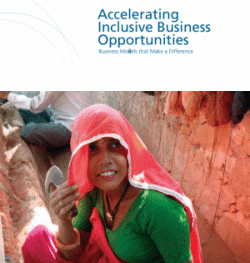 Policy highlights:
From 2006–2011, the International Finance Corporation of the World Bank Group invested in over 200 companies. This publication provides an overview of the inclusive business models used, namely: 1) micro distribution and retail; 2) experience-based customer credit; 3) last-mile grid utilities; 4) smallholder procurement; 5) value-for-money degrees; 6) value-for-money housing; and 7) e-transaction platforms.
The following lessons can be learnt from evaluating these models: 1) creating value for the 'base of the pyramid' (BoP) is paramount, but knowing what BoP customers want requires in-depth understanding of their lives; 2) innovative business models are almost always high-touch, meaning that markets and sources of supply are not just waiting to be tapped – they need active cultivation; 3) many successful inclusive business models are 'whole of the pyramid' models, instead of a focus only on the base; and 4) public funding can be used strategically, either to deepen markets by funding end-users (e.g. of electricity) or releasing funding to companies based on output, or by supporting product literacy, business skills, and access to financial services.
Governments can create enabling environments for inclusive business through general measures for the legal empowerment of the poor (e.g. strengthening property rights), and through specific measures to encourage business innovation while ensuring consumer protection in specific industries.