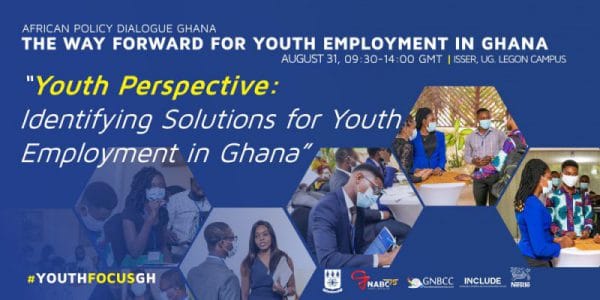 On Tuesday 31st of August a workshop for young people in Accra will be organized as part of the African Policy Dialogue on Youth Employment in Ghana, in collaboration with the University of Ghana Legon – Economics Department, the Ghana Netherlands Business and Culture Council (GNBCC) the Netherlands African Business Council (NABC), and INCLUDE.
The workshop will provide young people of Ghana the chance to share their perspective and experience of the labour market. The input gathered during the workshops will feed into the policy brief that will be presented to policy makers in public and private institutions both in Ghana and in the Netherlands.
Participation is open to all  young people between the age of 18 – 35 who are excited to share their experiences and contribute to possible solutions, whether still studying, unemployed, self-employed or employed. 
The workshop will focus on identifying durable solutions for addressing youth employment in Ghana. Participants will be able to strengthen their knowledge on the employment landscape in Ghana, and expanding their network through the various presentations and the attending participants. Partners for this event are Nestlé Ghana and the Netherlands Embassy in Ghana.
Date: Tuesday 31st August
Time: 08:30 – 15:00 (lunch provided)
Location: ISSER, UG Legon Campus
To participate, please fill in the form at the link below before 27 August: