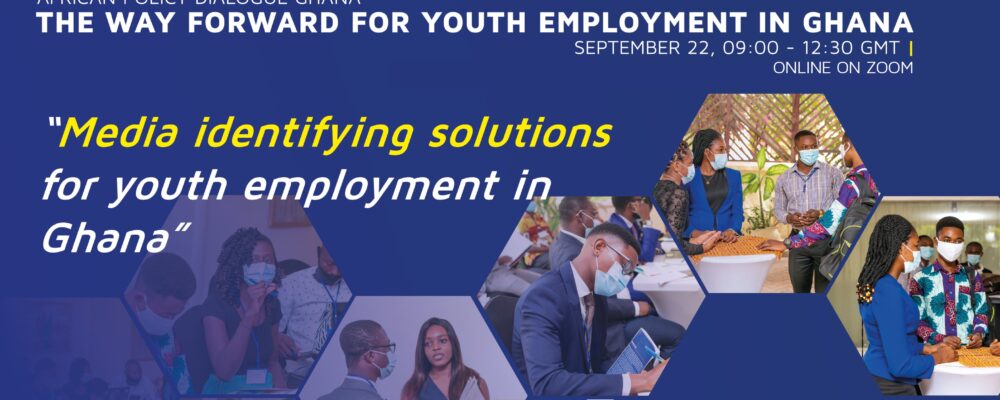 Following the workshop on Youth Employment, African Policy Dialogue Ghana is hosting a workshop titled 'Media identifying solutions for youth employment in Ghana'. Prof. Baah-Boateng will present his discussion paper on the role of media in the youth employment debate and media professionals will be able to share their perspective. Partners for this event are Nestlé Ghana and the Netherlands Embassy in Ghana. The input gathered during the workshops will feed into the policy brief that will be presented to policy makers in public and private institutions both in Ghana and in the Netherlands.
Date: Wednesday 22nd September
Time: 09:00 – 12:30 GMT
Location: Zoom link – https://us02web.zoom.us/j/82789553569?pwd=MlViaHhPSDE0T3pjd2RHTzA5VHNaZz09
The workshop is a follow-up meeting on the way forward for youth employment in Ghana, based on the initial research by Prof. Baah-Boateng. The insights of the kick-off meeting in September 2020 were gathered in this report. The African Policy Dialogue on Youth Employment is a collaboration between Include Knowledge Platform (Netherlands), the University of Ghana Legon – Economics Department, the Ghana Netherlands Business and Culture Council (GNBCC) and the Netherlands African Business Council (NABC). For more information, please visit the African Policy Dialogue page.