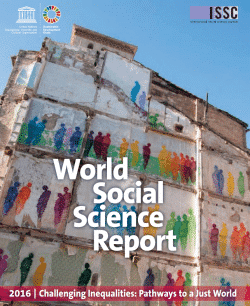 Policy highlights:
The concentration of economic and political power in the hands of a small number of people can threaten growth, social cohesion and the health of democracies, and reduce the impact of growth on poverty reduction. Reducing inequality is a pre-requisite for human rights and justice, and is essential for success in other global priority areas, such as environmental sustainability, conflict resolution and migration.
The authors of this report call for a research agenda that is interdisciplinary, multiscale and globally inclusive to better understand the long-term impact of inequality on people's lives. The importance of recognizing different dimensions of inequality – economic, social, cultural, political, spatial, environmental and knowledge-based – and their interlinkages is underlined.
Policymakers should develop simultaneous, integrated policy actions to tackle these multiple dimensions of inequality. These should: 1) recognize and address the specific historical legacies and deep-rooted cultural practices that shape inequality, 2) focus primarily on the poorest countries in Sub-Saharan Africa, where poverty will be concentrated in the coming decades if inequality remains high, and 3) support collective action by citizens. This opens up space for novel solutions to inequality and may inspire inclusive policy innovation.
The most successful policies are the ones that: 1) provide productive employment (a decent, fairly paid job, supported by effective labour market institutions), 2) enforce the redistribution of wealth and resources (e.g. through tax reforms), 3) strengthen social protection and services (like free health care and cash transfers), 4) are supported by high-quality, legitimate (inclusive) institutions, and 5) are connected to regional and international policy.