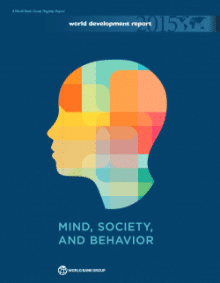 Policy highlights:
The 2015 World Development Report discusses the limits of rational thinking and how this influences human behaviour in development practice. It challenges development practitioners to rethink their policies and learn from behavioural sciences.
The report calls for a different approach in development policy that addresses the influence of human behaviour by means of 'adaptive designs'. Adaptive designs can help to identify certain mental models, such as traditional norms about women's roles, so these can be recognized and taken into account to create better-designed interventions.
To make such behavioural approaches successful the report  stresses that research and learning should be placed at the centre of development practice and policy. This will require complementary tools and methods, and a change of mindset on development issues.
Public institutions have a big role to play to enhance policy design for development affairs. A renewed focus on 'public-research-private partnerships' (PRPPs) could be the way forward.