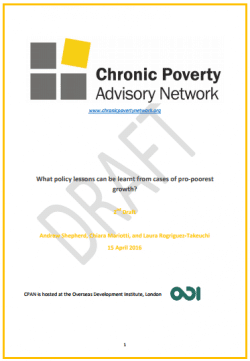 Policy highlights:
This paper examines policy and non-policy drivers of pro-poorest growth by comparing six country cases of pro- or anti-poorest growth episodes in Southeast Asia and Eastern Africa.
Pro-poorest growth can be promoted through different combinations of factors, and different combinations and sequences of policies. Whereas Cambodia's was driven by investments in the garment sector and rising minimum wages, Rwanda's was driven by agricultural growth and the related growth of the rural non-farm economy, supported by social protection.
Four policy areas to focus on in achieving pro-poorest growth include: 1) diversification of the economy with external investment, 2) diversification of rural livelihoods and support for smallholder agriculture and the non-farm economy, 3) improving the conditions of informal and casual wage workers, and 4) policies to manage macro- and micro-level risks and the ability to respond to shocks.