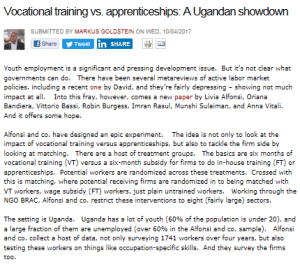 Policy highlights:
Youth employment is a significant and pressing development issue, but it is not always clear what governments can do.  This blog discusses a recent paper that offers a perspective on the relevance and nature of skills training.
Uganda has a large youth population (60% of the population are under 20), and significant unemployment figures (over 60% of respondents in the sample were unemployed). The study examined the effects of vocational training and apprenticeships combined with matching systems on the firm level in the Ugandan labour market. Firms were randomly matched with three types of workers: those who had received vocational training, wage subsidized apprentices, and untrained workers (a control group). The study surveyed 1,741 workers over four years.
Authors found the following: 1) workers benefitted from the certificates of vocational training; 2) higher levels of skills and increasingly transferrable skills were gained from vocational training, and firm-specific skills from apprenticeships; 3) both groups were about 7% more likely to find wage employment and 4) the vocational group is about 4% more likely to be self-employed; on the other hand; 5) the apprentice group is more likely to remain in employment at the firm after wage subsidies end; and 6) both groups earn more wages (apprentices earn a bit more than the vocational training group), and are employed longer (the vocational group longer than the apprentices) than groups that have not received training.
Both types of training were found to be beneficial for workers. Vocational training is generally most valuable to workers, both in terms of gaining employment and receiving other job offers while in employment. However, despite the effectiveness of training programmes, workers are often unwilling to pay for these trainings themselves. This is explained by lack of access to credit among workers. For such reasons, policymakers should adopt an integrated approach to address labour market challenges.