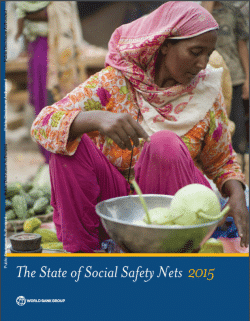 Policy highlights:
Social safety net programmes (SSNPs) provide support to the poor in order to make societies more equitable and promote human capital development.
1.9 billion people in 136 countries benefit from SSNPs. These programmes help reduce the poverty gap by 15%, but impacts are much stronger in higher-income than in low-income countries. The largest coverage gaps are found in Sub-Saharan Africa and South Asia.
More efficient implementation of social protection policies demands coherent strategic frameworks to steer interventions, the use of institutional capacity, coordination, and programme administration and evaluation.
In practice this requires coordination with broader government programmes and social sectors such as education and health, investment in information management systems that facilitate the selection of beneficiaries, service delivery and monitoring of both processes and outcomes, and more research on the costs of SSNPs and how best to link them with complementary programmes and services, such as asset transfers, financial inclusion, skills training and job search assistance.