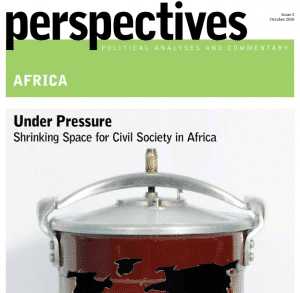 Policy highlights:
Kenya's civil society has grown resilient over time: it is dominated by youth, has strong links with growing social movements, is connected to the bold mainstream press, and boast highly interactive social media. However, civil society is also being critically questioned in terms of its transparency and downward accountability.
The current administration in Kenya can be seen as 'anti-NGO', as illustrated by the view that the International Criminal Court (ICC) has been conspiring against Kenyan leaders with NGOs. This led to calls by the government to reduce NGO freedom and their access to funds.
One vehicle for the regulation of CSOs in Kenya is the Public Benefit Organisation Act (PBO), implemented in 2016. The aim of this legislation was to develop and implement a new legal, regulatory and institutional framework, while creating a conducive relationship between civil society and the state. The impact of the PBO Act shows a different side of the law: it caps foreign funding at 15%, undermines self-regulation, and imposes excessive national executive regulations on the CSOs. As a result of the Act, 361 organizations have been de-registered because for non-compliance with the law.
Another vehicle used by the Kenyan administration to limit civic space is freezing accounts in the name of security, which the government justifies as necessary to counter terrorist attacks. Kenyan-based international NGOs have also come under attack: there have been demands from the government to hire locals first and address salary disparities, and organizations have been forced to pay to be removed from deregistration and for work permits. The media has also been restricted: legislative and institutional changes have induced self-censorship and undermined the role of the media as the guardian of civic space. The police have increasingly used the PBO Act to threaten civil society actors in Kenya.
Although the civic space in Kenya is under pressure, Kenya's civic actors have proven to be resilient. For example, CSOs joined forces to reacting to the threat to close down another 970 NGOs by issuing a press statement, which led to the postponement of any new amendments. CSOs are encouraged to keep addressing issues regarding the closing of the civic space together.