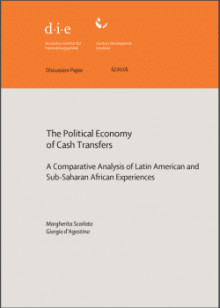 Policy highlights:
Cash transfers have grown in popularity in Latin America and Sub-Saharan Africa since the 1990s. The features of cash transfer programmes are shaped by institutional, political and socioeconomic factors and so they vary according to the context.
Cash transfers in Latin America mostly aim at reducing the intergenerational transmission of poverty within households via large structural programmes. In Sub-Saharan Africa, cash transfers are often used as short-term solutions in times of food, fuel and health crises. As these cash transfers are often provided by a broad range of development organizations, programmes are often fragmented.
In both contexts, cash transfers were found to have a positive effect on the health, education and nutrition of children within beneficiary families. Challenges that remain are financial sustainability, administrative capacity and social services provision.
In Sub-Saharan Africa, donors can contribute to more effective cash transfer programmes by encouraging governments to engage in large-scale and long-term interventions.