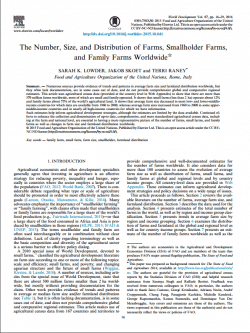 Policy highlights:
Numerous policy interventions target smallholder farmers, but there are no clear definitions of farm types and few statistics on farmland distribution worldwide.
An elaborate analysis of farm size and distribution shows that around 84% of all farms worldwide are less than 2 hectares and that these farms only operate 12% of the land.
The proportion of small farms is similar in low-income and middle-income countries, where they use 30–40% of the farmland.
These findings contradict the assumption that small farmers will feed the growing world population, as they only possess a small proportion of the world's arable land.
The concepts of the small farm and the family farm should not be used interchangeably because the share of land used by family farms is estimated at 75%.