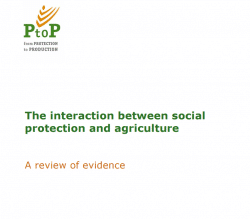 Policy highlights:
Cash transfers and social protection schemes have an impact on agriculture by increasing the accumulation of agricultural assets and preventing detrimental risk-coping strategies (e.g. selling ploughs or fishing equipment to buy food).
Smallholder agricultural interventions contribute to social protection, for example by improving income generating capabilities, which in turn reduce household vulnerability and increase their ability to absorb shocks.
The synergies between social protection and agriculture should be exploited more systematically.
In doing so, policymakers must be aware of the potential for conflicts arising from competition for power in policymaking, inconsistency between policy objectives and difficulties regarding the targeting, timing and coordination of interventions.