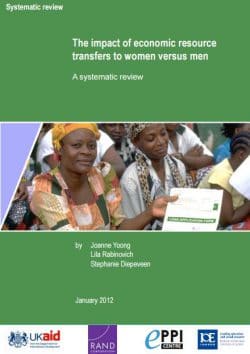 Policy highlights:
Women are often targeted in cash-transfer programmes because they are believed to invest more in household well-being, education and health than men.
A systematic review of 15 studies shows that targeting women in cash-transfer programmes does not guarantee positive outcomes. However, it can contribute to the well-being of children, especially when it comes to investing in their health and education.
There seems to be a difference in effect for different types of programmes. Conditional cash-transfer programmes show a clear positive relationship between gender and household well-being. This relationship is much more ambiguous for unconditional cash transfers, such as pension schemes and microcredit.
These findings indicate that it is important to take gender into consideration when designing cash-transfer schemes.