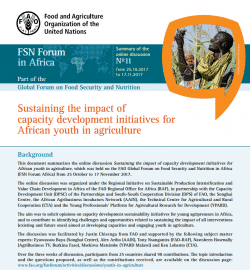 Policy highlights:
This document summarizes the online discussion 'Sustaining the impact of capacity development initiatives for African youth in agriculture', which was held on the 'FAO Global Forum on Food Security and Nutrition in Africa', (FSN Forum in Africa). The report identifies challenges and opportunities in sustaining the impact of capacity development (CD) initiatives to support youth in agriculture.
Youth in Africa face several challenges after completing CD initiatives, related to the way the initiatives are set up, organized and promoted, and to the general institutional and socioeconomic context of agriculture in the region: 1) lack of appropriate targeting of participants for CD initiatives; 2) lack of business skills training; 3) short duration of CD initiatives, after just a few weeks participants graduate; 4) lack of follow-up by organizations on their CD initiatives; 5) lack of or inadequate access to finance to establish and develop agribusinesses; 6) lack of access to land; 7) insufficient access to markets; 8) reality gap.
Integrated CD initiatives that offer a complete package of knowledge and business skills are needed, as well as financial, technical and input support. Moreover, CD initiatives must be based on capacity gaps of youth in agriculture. Post-CD should not focus solely on entrepreneurial (hard) skills, but also on psychological (soft) skills, to change the mind-set of youths about working in agriculture and to provide greater encouragement for them to do so.
Follow-up of CD initiatives is important to ensure that specified outcomes are achieved. CD initiatives should be continuous and long-term, offering post-CD support, monitoring and impact evaluation. Youth should be stimulated in follow-up activities to form associations and cooperatives, to provide peer support and to create functional value chains.
African governments must address the challenges that limit access by youth to land, finance and markets. Policies should promote youth entrepreneurship in agriculture (agripreneurship) and encourage small- to medium-sized agricultural enterprises to grow. Policymakers should focus on access to markets agro-inputs, and facilitating youth participation in decision-making, planning and implementation processes.
Infrastructure must be tailored to improving access for rural areas and markets. Additional focus is also needed for the role of modern technology in CD for youth in agriculture: increasing access to information, enabling the development of (online) platforms, increasing potential access to different markets, supporting on-farm activities and raising awareness of global developments in agriculture and agripreneurship.