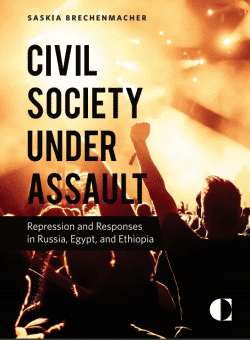 Policy highlights:
This article describes how the political space for civil society organizations (CSOs) in Ethiopia is shrinking as a result of different (legal) measures imposed by the government. These measures pose several challenges for civil society and include: 1) harsh legal restrictions on foreign funding for CSOs, 2) the violent repression of civic mobilization, and 3) a forced shift from political and rights-based work to development and service delivery.
The impact in Ethiopia is visible: there has been a decrease in active CSOs and many have been forced to abandon their work on national policy questions. This has led to very few advocacy and human rights monitoring groups. It has also become increasingly difficult to undertake independent investigations into human rights in Ethiopia. In addition, the formation and operation of a civil society network in Ethiopia has been prevented by government-imposed budget restrictions, as most CSOs can now only finance their work though member contributions.
The most common survival strategy of CSOs is to shift their activities away from politically-sensitive issues to technical development and local service delivery. Some CSOs have rebranded their activities; for example, Action Aid Ethiopia changed its mission statement from "To eradicate absolute poverty, inequality and denial of rights" to "That poor people effectively participate and make decisions in the eradication of their own poverty and their well-being generally". Other groups have restructured more radically, such as the Organization for Social Justice, which renamed itself the Organization for Social Development and shifted its activities from human rights to corporate social responsibility. This represents a move by CSOs away from a political role. Only a few regional organizations registered with local sector offices have been able to continue their work on gender equality, children's rights, and rights for the elderly and those with disabilities, but with limited resources, which affects their scope for action.
EU and US leaders have primarily responded with quiet diplomacy and behind-the-scenes pressure. Their hesitance to push back at the restrictive measures reflects several economic and security interests: 1) the Ethiopian government has built an international reputation as an anchor of stability in a fragile region, 2) the Ethiopian government has highlighted its commitment to economic development, and 3) international donors are afraid that the country's poorest will end up hurt by any retreat in their support.
International policymakers are encouraged to continue to address the CSO situation in Ethiopia. This can be done: 1) within the framework of high-level meetings and formal political dialogues, 2) by addressing specific cases (e.g. lobbying for the release of political prisoners in Ethiopia has resulted in the release of a number of opposition leaders, journalists and the Zone 9 bloggers), 3) by renegotiating assistance modalities to channel (limited) funding to CSOs in Ethiopia and assist CSOs to adapt to the new (legal) environment.