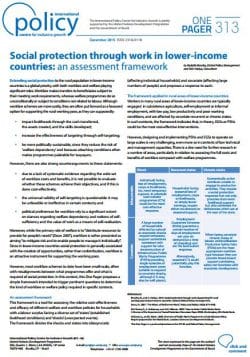 Policy highlights:
Social protection through work (workfare) makes transfers subject to beneficiaries meeting work requirements. Most such schemes in lower-income countries have been small-scale and poorly aligned with social protection requirements.
Workfare is more costly than welfare (which is not conditional on labour) but is thought of as more politically sustainable and reportedly impacts livelihoods not only through cash transfers but also through asset creation and skills development. There is little evidence to support these claims.
A framework applied in rural areas of lower-income countries shows that employment guarantee schemes and productive safety nets could be the most cost-effective options for recurrent states and chronic states of labour underutilisation respectively. But designing and implementing these schemes on large scales is very challenging, especially where technical and management capacities are limited.