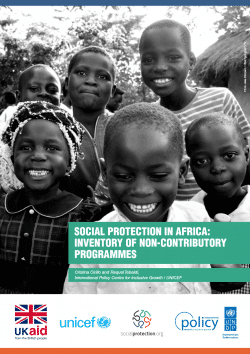 Policy highlights:
This report provides an overview of the state of 127 non-contributory social protection programmes (SPPs) in 39 African countries. It presents their objectives, design and implementation features, but does not discuss programme impact.
The most frequently implemented programme components are unconditional cash transfers (33%), cash-for-work programmes (15%) and conditional cash transfers and in-kind transfers (both 11%). Over 50% of mapped programmes combine multiple components. Cash-for work and training is a frequent combination.
In almost 60% of SPPs, recipients receive benefits in cash. Food is provided in 25% of the cases. Other frequently listed benefits are a variety of services, including healthcare and training.
Corresponding to project-size and GDP, most programmes (28%) cost between USD 1 and 5 million. Projects in Egypt, which has one of the highest GDPs in Africa, are particularly expensive, costing up to USD 1 billion. Expenditure is unknown for over 20% of all programmes listed.
Whether programme success and impact are monitored and/or evaluated is often unknown or unmentioned (40% of listed SPPs). In 40% of programmes that do mention monitoring/evaluation, external parties are involved in this process. Of this same group, 20% explicitly involve local partners in the monitoring process. In the Old Age Pension programme in Lesotho, for example, local chiefs are included in the evaluation.