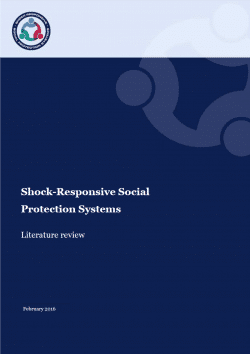 Policy highlights:
This paper draws lessons from an extensive review of recent literature on the theory and practice of shock-responsive social protection initiatives and their effectiveness.
There is clear evidence of beneficial impacts of social assistance, especially social transfers in the form of cash or in-kind transfers.
Donors often fail to engage with political economic factors that underpin poverty. This increases the risk that interventions are perceived as externally imposed and gain little traction. Relevant issues to consider include how to identify recipients of assistance, value of assistance, institutional location of emergency response, and triggers for releasing funds.
As informal sector workers are often excluded from social assistance programs, extra attention should be paid to their needs.
To prevent relapse into poverty in the event of shock, policy makers are advised to invest in functioning management information systems, strong targeting and delivery systems, sufficient administrative capacity, and adequate exit processes.