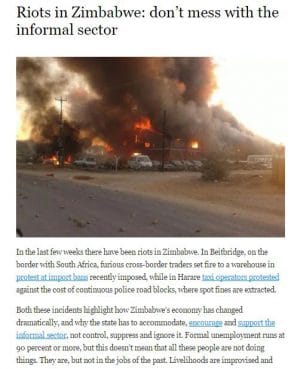 Policy highlights:
Recent attempts to formalize the informal sector in Zimbabwe led to riots. Formalization jeopardizes the livelihood of informal workers, who make up the majority of the population. The formal unemployment rate is 90%, but most people work in the informal sector.
The living conditions of informal workers are hard, as their income is low and variable.
Instead of formalization, policies could be developed to facilitate investment in informal workers. This would allow them to grow into larger businesses and make the transition into formal forms of employment.