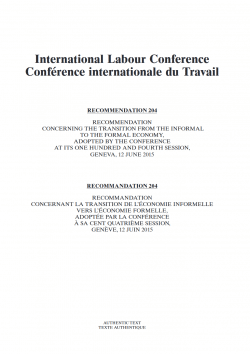 Policy highlights:
Strategies to facilitate the transition of workers to the formal economy should be tailored to the specific circumstances/characteristics of workers, including the most vulnerable such as women, young people, migrants, elderly and ill/disabled people.
Formulated strategies should then be translated into an integrated policy framework that ensures and promote: sustainable development and inclusive growth; freedom of association and collective bargaining for workers and employers, for example by means of trade organisations; access to education, financial services, markets, infrastructure, technology, social security coverage, justice and international cooperation mechanisms; coordination and cooperation between different levels of government and relevant bodies and authorities.
To facilitate an effective transition to the formal economy, a combination of incentives and preventive measures and sanctions should be implemented. Incentives may include access to services, educational programmes, and reduction of tax and other barriers.
Finally, an appropriate system of inspection and review must be put in place to ensure compliance with rules, rights and regulations, and to prevent corruption and human rights violations.