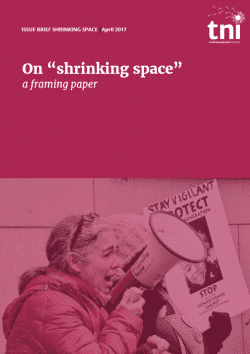 Policy highlights:
The authors of this paper call for a deeper understanding of the concept 'shrinking space' and its inherent complexity and heterogeneity, including of: 1) the 'space' being discussed (which is often identified through formal organizations, which excludes many social movements and denies the diversity and dynamics of political and institutional spaces) and 2) the process of 'shrinking' (not everyone's space is shrinking in the same way).
The concept of 'shrinking space' can be directly harmful to certain segments of civil society, because it: 1) depoliticizes the issue, 2) overlooks the different issues that movements face in their struggles, and 3) neglects the diversity in toolsused to shrink space in different contexts and the diversity in state structures.
Other challenges include the fact that: 1) shrinking space can be used as a political tool (e.g. by excluding movements with certain goals or framing the term as a 'southern problem' while allowing shrinking space locally), 2) the discussion around shrinking space represents a newly-opened space, but distracts us from questioning which spaces are closingand how they might be re-opened, 3) CSOs are increasingly divided by delegitimization, competition, the focus on individual rights versus collective struggles, changing donor-recipient relations, and the corporate governance and securitization of many donors.
Organizations should: 1) recognize that activists, and the wider social movements that they are part of, experience different levels of oppression and violence,  2) look to the voices and experiences of those on the margins whose political space is being restricted, (e.g. the Boycott, Divestment, Sanctions movement in Palestine and the Black Lives Matter movement in the US), 3) understand the politics behind shrinking space and its relationship to neoliberalism, authoritarianism, insecure bastions of power trying to regain control, and the global economic crisis, 4) better define the problem, and 5) keep in mind that fundamental social and political changes have always come from the grassroots.
Finally, securitization instrumentalizes CSOs to such an extent that it may one day permanently close the door on the spaces where 'real' change is made. Organizations should: 1) hold governments and corporations accountable, and 2)rediscover solidarity, upholding the principle that 'injustice anywhere is a threat to justice everywhere'.