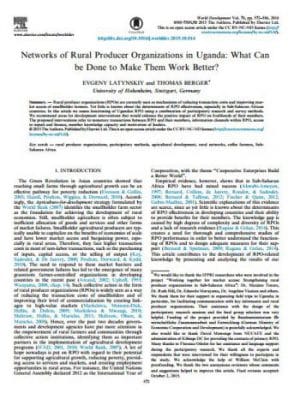 Policy highlights:
Smallholder agricultural producers are typically unable to capitalize on the benefits of economies of scale and have lower market access and bargaining power, especially in rural areas. This has led to the emergence of grassroots farmer-controlled collective action in the form of rural producer organizations (RPOs). RPOs are seen as a way of reducing the transaction costs of smallholders and improving their level of commercialization by creating linkages to high-value markets.
The number of RPOs has grown rapidly in Sub-Saharan Africa, but evidence of their impact is mixed.
The case of an RPO in Uganda shows that although prices paid to farmers were perceived to be higher, there were several capacity constraints related to financial liquidity, transportation and storage. In addition, weak leadership and poor information channels led to low use of services offered by the RPO, such as extension services, market information and milling.
RPOs can be improved by making direct payments on the spot to their members, improving information channels and transparency, providing access to inputs and finance, disseminating knowledge to members, and motivating leaders with a financial remuneration.