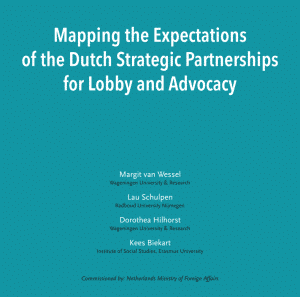 Policy highlights:
This report reviews the expectations held by different partners in the 'Dialogue and Dissent: Strategic Partnerships for Lobby and Advocacy' policy programme implemented by the Dutch Ministry of Foreign Affairs (MFA) between 2016 and 2020. The programme aims to strengthen civil society organizations in low- and lower-middle-income countries in their role as advocates and lobbyists by establishing equal and mutually-beneficial partnerships between state- and non-state actors in a structured framework (as opposed to sporadic engagement based on, for example the alignment of agendas at a certain point in time).
In the programme, differences of opinion are not only accepted, but welcomed, for the energy generated by friction, which can contribute to achieving change. Developing approaches for dealing with dissent in a productive way may help mitigate concerns among Ministry staff, for whom dissent may sometimes appear risky. The Dutch MFA aims to create new opportunities for acting together and, defining and achieving goals in equal and reciprocal relations with space for flexibility. Risks are taken together and partners can hold each other accountable.
The main challenges to the partnerships include: 1) coordination, capacity, implementation and sustainability, for example, what partners can expect from each other should be collaboratively defined (e.g. whether strategic or capacity-related value is most important), 2) determining what counts as an 'effective' partnership and how to evaluate this, 3) autonomy, which is a complex issue as NGOs can be associated with government partners (and the other way around) or governments may propose adjustments to NGO programmes; questions should be raised about the space and quality of connections available to local partners and, finally, 4) expectations for collaboration and added value, which are predominantly rooted in the perceived alignment of agendas and approaches.
Another issue is how to manage friction and how to make it productive. Suggested methods include: 1) keeping each other informed in a timely fashion so that partners can prepare to respond, 2) facilitating dialogue to overcome friction, and, in particular, 3) creating distance, while maintaining good partner relations and communication.