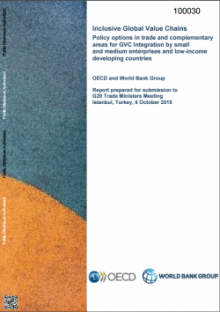 Policy highlights:
Participation in global value chains (GVCs) is heterogeneous and uneven: low income developing countries (LIDCs) are under-represented, even though their representation has expanded from 6% to 11% of the world total over the last two decades. Businesses from LIDCs that participate in GVCs mostly operate in the informal and/or agricultural sector.
SME participation in GVCs mainly takes place through indirect contribution to exports, serving as domestic supplies of exporters rather than through direct exports.
Three broad areas of recommendation are elaborated to achieve more inclusive GVCs:
Improve the policy environment for more inclusive GVCs, for instance by relaxing policies such as rules of origin, providing dedicated funding to aid for trade or other capacity building efforts, engaging GVC key actors, including SMEs, to identify binding constraints and solutions, and enhancing cooperation between development partners to make aid work better for trade and inclusive growth.
Enhance the capacity and productivity of SMEs, for instance by fostering managerial skills through training/ education, removing regulatory barriers to growth and scaling up of SMEs, and helping SMEs to use mobile technology.
Provide political support for the establishment of a statistical foundation necessary to increase capacity to identify and implement policies that can contribute to more inclusive and sustainable growth.