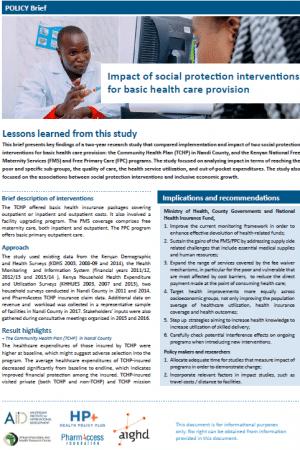 Introduction 
This Policy Brief presents key findings an policy highlights of a two-year research study that compared implementation and impact of two social protection interventions for basic health care provision: the Community Health Plan (TCHP) in Nandi County, and the Kenyan National Free Maternity Services (FMS) and Free Primary Care (FPC) programs. The impact of the programs was measured in terms of reaching the poor and specific sub-groups, the quality of care, the health service utilization, and out-of-pocket expenditures.
Key Findings 
a) The Community Health Plan (TCHP) in Nandi County
The average healthcare expenditures of TCHP-insured decreased significantly from baseline to endline, which indicates improved financial protection among the insured.
The TCHP-insured visited private (both TCHP and non-TCHP) and TCHP mission facilities significantly more, while the uninsured visited the public non-TCHP facilities significantly more.
After the introduction of the FPC and FMS, the TCHP program was redesigned in May and June 2013 and households were required to re-enrol. Evidently, enrolment did not catch up to the level before redesign due to the combined effects of low re-enrollment rate and high drop-out rates throughout the whole program period. This can to a large extent be explained by the availability of free basic care after mid-2013 in the FPC and FMS programs.
b) The Kenyan National Free Maternity Services (FMS) and Free Primary Care (FPC) programs
Findings indicate substantial increases in absolute use of antenatal care and skilled delivery care following the implementation of both programs. However, this the trend toward increased facility deliveries was already noticeable prior to the programme.
Equity in access to services remains an issue to be addressed. The number of skilled deliveries between 2003 and 2014 increased in all groups, with a relatively better score among women in the poor quintile, but the absolute increase was higher in the richer quintiles of the women.
Overall, the system of health financing is complex and includes TCHP, FPC, FMS, National Health Insurance Fund and some smaller providers (AMPATH, Faulu, CIC, and Linda Jamii). There are significant overlaps in terms of packages and coverage among providers.
Implications for the Ministry of Health, County Governments and National Health Insurance Fund
Improve the current monitoring framework in order to enhance effective devolution of health-related funds.
Sustain the gains of the FMS/FPC by addressing supply side related challenges that include essential medical supplies and human resources.
Expand the range of services covered by the fee waiver mechanisms, in particular for the poor and vulnerable that are most affected by cost barriers, to reduce the direct payment made at the point of consuming health care.
Target health improvements more equally across socioeconomic groups, not only improving the population average of healthcare utilization, health insurance coverage and health outcomes.
Step up strategies aiming to increase health knowledge to increase utilization of skilled delivery.
Carefully check potential interference effects on ongoing programs when introducing new interventions.