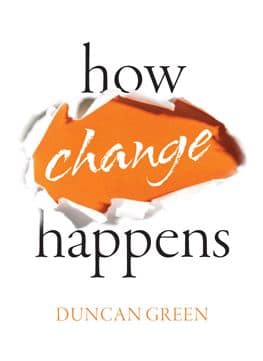 Policy highlights:
Based on a combination of experience and academic literature, 'How change happens' offers a unique perspective and practical guide to change in international development. Duncan Green argues for a 'power and systems' approach (PSA), in which change is a non-linear process dependent on a combination of factors and actors, which are influenced by power relations. Shocks and gradual changes are at the centre of a process that is comparable to evolutionary change.
The book offers a guide to navigating the complexity of change for policymakers, development practitioners and activists. It explains how different actors evolve over time, what their place in the system is, and how (and where) complexity can be identified and acted upon. The institutions discussed are: 2) the state, 2) the law, 3) political parties, 4) the media 5) international systems and 6) transnational corporations. Although such institutions can seem impenetrable and stable, they are all complex systems that change over time (and can change radically, e.g. with the emergence of new technology and the media) and can be influenced. The December 2015 Paris Climate Accord is presented as a case study that shows how the PSA explains change processes.
The importance of civic space is also underlined. Civil society is an actor that can: 1) hold governments accountable, 2) make states and markets work better, and 3) use the media to influence decision making and public opinion. The role of leadership is also important, although the value of good leadership is often underestimated. The inspiring example of Nelson Mandela is illustrative. The role of advocacy can be crucial in facilitating change. Unexpected actors like retired 'influentials' can play an important role in this. For advocacy, it is important to be creative by using different tactics (provocation, calls for law enforcement, 'killer facts'), languages and ideas; identifying windows of opportunity in the system; and building alliances.
A theory of change (ToC) should be seen as a compass, not a map; a dynamic process, rather than a static document. It should allow for assumptions to be regularly challenged and updated and it should facilitate learning. In developing a ToC, it is necessary to: 1) talk to people 'on the ground', 2) avoid toolkits and best-practice approaches, and 3) employ a focus on evidence for accountability based on what has been learnt and how projects have been adapted accordingly. The first step in developing such a ToC is to look at historical change and future prospects, while 'expecting the unexpected', and move away from linear thinking. It is crucial to start with proper observations while maintaining a reflexive attitude. Ask questions like: 1) What kind of change are we talking about (formal/informal, individual/systemic)? 2) What precedents can we learn from? 3) Who are the stakeholders and where do they stand? 4) What kind of approach might make sense? 5) What strategies will we try (which may constantly change)? 6) How will we learn?
To create such a policy or programme, one needs to: 1) recruit the right people, 2) provide the right incentives, 3) create space to manoeuver, 4) develop a system for fast feedback and response, 4) build coalitions with diverse actors, and 5) allow learning from failures. Funders can play an important role by facilitating and enabling a diverse approach. International organizations can play an important role in influencing as well, but should be careful not to disrupt changes on the national level. Approaches should link up with what is happening on the ground.