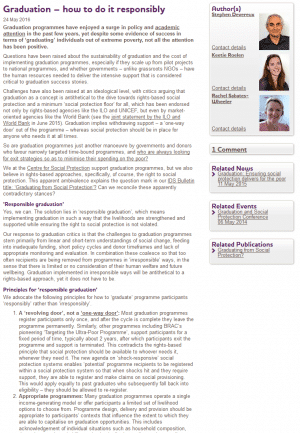 Policy highlights:
Graduation programmes aim to 'graduate' individuals out of extreme poverty. Despite some evidence of success, questions are being raised about their sustainability. Most importantly, rights-based organisations like the ILO and UNICEF have argued that the graduation concept is antithetical to the drive towards social protection, which should be in place for anyone who needs it at all times.
Reconciling these seemingly contradictory stances is possible by reconceptualising graduation. So-called 'responsible graduation' means implementing graduation in such a way that livelihoods are strengthened while ensuring the right to social protection is not violated.
Key principles: Past 'graduates' should be able to re-register if they fall back into poverty; programme designs should be adjusted to participants' individual situations; programmes should include clear and consistent eligibility criteria, transparent targeting and monitoring systems with accountability mechanisms.
The limits of the programme should be recognized and respected: some households do not have the necessary capabilities for generating self-reliant livelihoods (e.g. due to illness/disability) and should be moved to suitable social assistance programmes.