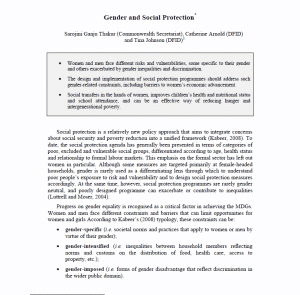 Policy highlights:
Social protection programmes often tend to exclude women. Poorly designed programmes may even exacerbate gender inequalities. Adequately addressing gendered forms of vulnerability will lead to greater poverty reduction and human development.
This can be achieved through a range of social protection mechanisms, including investment in human capital – particularly education and health – and supporting women's labour market participation and access to credit.
High-level political commitment is essential to ensure that social protection becomes more inclusive and integrated into national policies.
Governments are recommended to: 1) support gender data collection to strengthen social protection programmes; 2) support women's organizations and awareness raising efforts to increase women's participation in social protection initiatives; 3) design gender-specific programme actions that help redress inequalities; and 4) promote institutional coordination between key stakeholders.