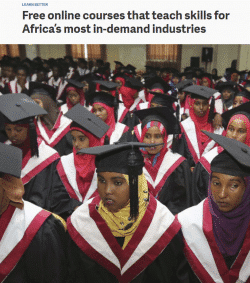 Policy highlights:
Several African universities are creating free online courses. These universities hope to democratize access to education, encourage more collaboration and networking between institutions and support better access to education.
Open online courses try to address the main youth employment challenges, together with the disconnect between students' skills and employers' expectations. The skills provide in open line courses are requested in the most promising industries on the African continent, namely: infrastructure and development; agriculture and the environment; food and beverages; health; apparel; financial services; and STEM (data analysis, computer science, and engineering).
Internet speeds and copyright can make it difficult to implement or offer free online courses, however, the concept still has potential. Overall, the variety of universities and courses offered present opportunities for students to sharpen their skills for future workplace engagement. Policymakers are encouraged to support such innovative initiatives to bridge the skills gap needed for a productive workforce.