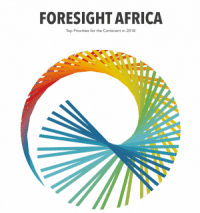 Policy highlights:
The new Foresight Africa highlights the emerging opportunities in Africa, which is a single market of 1.2 billion people, with over USD 3 trillion in continental GDP and a growing middle class. The report presents the top priorities for 2018.
Highlights on inclusive development policy:
Although economic growth is necessary for development, it is increasingly relevant to make sure no one is left behind. The World Bank estimates that Africa had at least 50 million more poor people in 2013 than in 1990, and others estimate that at least 2.4 million new poor were added in 2017 alone.This can be explained by: 1) insufficient creation of quality jobs, 2) the fact that the poor population is growing faster than the poverty reduction rate, 3) limited or ineffective pro-poor policy interventions (695 million people in Sub-Saharan Africa are living without access to basic sanitation, only 34% have access to roads, and 620 million people do not have access to electricity), and 4) challenges in terms of social protection, especially related to access to health care.
To make development more inclusive, policymakers should focus on: 1) diversification and the development of labour-intensive sectors with a sustainable comparative advantage (e.g. tradable services, agro-industry, and horticulture), 2) simultaneously developing targeted policies (including cash transfers) for immediate poverty alleviation, 3) adopting targeted interventions addressing immediate needs (e.g. direct transfers to the extreme poor and a better system of social insurance with mandatory contributions from all workers), 4) protecting the rights of workers, 5) developing social services for the most vulnerable groups, and 6) improving nutrition by increasing agricultural yields (considering contextual factors and technology use) and by other means that do not require large investments (e.g. child nutrition campaigns).
Other areas to watch in Africa in 2018 are: 1) the contract between governments and citizens (it is vital to rely on institutions and the rule of law, e.g. during elections), 2) land rights (especially for urban infrastructure development), 3) the SDGs as a business case (the goals are expected to open up new markets worth more than USD 12 trillion by 2030, while at the same time creating up to 380 million jobs), 4) technology use by firms, 5) Africa's global connections (US foreign policy, migration as an economic opportunity, China investing, trading and lending.
Note: the report offers some interesting viewpoints from different contributors. One of the suggestions made to avoid elite capture of oil revenues is universal basic income. If the government were to transfer these revenues directly to all citizens (in equal amounts), and then tax them to finance public goods, citizens will know 1) the size of oil revenues, and 2) they will have a greater incentive to scrutinize government spending, since it is financed out of their tax payments.
Boosting economic growth in Africa:
To keep up the moderated, but sustained, growth experienced by African countries in recent years, the report presents the top priorities for 2018. The report underlines the importance of domestic resource mobilization to: 1) increase the self-financing of institutions and 2) address challenges in financial flows due to debt levels, commodity exports (notably oil), foreign monetary policy, and the decrease in official development assistance.
Governments can boost revenues by: 1) increasing tax revenue, 2) managing natural resource wealth, 3) combating illicit financial flows, 4) mobilizing diaspora savings, and 5) leveraging technology. It also recommends engaging in innovative financing mechanisms like public-private partnerships, which can increase private sector engagement and mitigate risks.
Donors can play a role by supporting these blended investments to enhance infrastructure and tie these funds to national reforms to boost self-reliance.
Technology and digitalization: 1) shift the structure of economies, 2) transform roles in the labour market, and 3) transform public service provision and institutional relationships.
They offer opportunities 1) in terms of retail payments and 2) for financial inclusion, 3) for supporting sustainable business models, 4) administration services, 5) innovation in education, 6) agricultural transformation (e.g. through improved access to finance and market information), and 7) entrepreneurship.