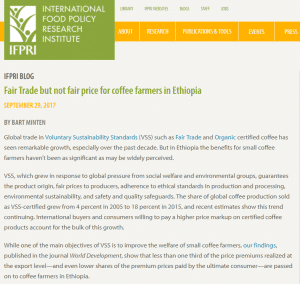 Policy highlights:
In Ethiopia, revenue from the coffee trade comprises a quarter of the country's foreign exchange earnings. However, despite the potential economic benefits of higher price premiums from Voluntary Sustainability Standards (VSS) (like those for fair trade and organic produce), there has been limited adoption of such standards. Furthermore, where VSS have been adopted, the evidence of large-scale impact is limited.
Researchers found that less than a third of the premium prices realized at the export level—and an even lower share of the premium prices paid by the ultimate consumer—are passed on to coffee farmers in Ethiopia. Farmers engaged in cooperatives working with VSS do this primarily for advantages like advice, proximity, and dividend payments, not for higher prices.
Higher consumer prices do not necessarily directly translate into higher revenue for local farmers. Therefore, in order to use VSS to create a decent income for farmers, or for direct poverty alleviation, policymakers should understand the impact of VSS at different levels of the value chain.