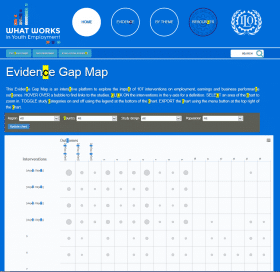 Policy highlights:
The Evidence Gap Map is an interactive platform that allows an exploration of the impact of interventions on employment, earning and business performance by providing an comprehensive and easy-to-use database. Before planning an intervention, this map is an quick and easy tool to gain contextual knowledge on what intervention fits a country or region best.
The data available upon writing this abstract show that from 107 interventions, most show a positive effect. Outcomes are dependent on 1) country context, 2) the choice of intervention and 3) program design. The Evidence Gap Map is based on a systematic review by Kluve et al. (2017), which you can find here.
Especially the outcomes of training in hard and soft skills programmes are covered. The knowledge gaps in Sub-Saharan Africa are most evident in 1) data on public employment like subsidized employment, and 2) outcomes in business performance.