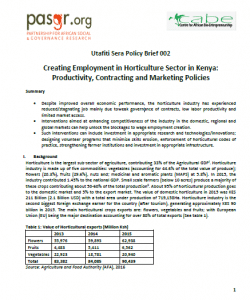 Utafiti Sera on employment in Kenya, one of the African Policy Dialogues encouraging evidence based policy making to enhance inclusive development in Kenya, has developed as a policy brief that focuses on the horticulture sub-sector. The key messages from this policy brief are as follows.
Despite improved overall economic performance, the horticulture industry has experienced reduced/stagnating job creation mainly due to weak governance of contracts, low labor productivity and limited market access.
Interventions aimed at enhancing competitiveness of the industry in the domestic, regional and global markets can help unlock the blockages to wage employment creation.
Such interventions can include investment in appropriate research and technologies/innovations; designing volunteer programs that minimize skills erosion, enforcement of horticultural codes of practice, strengthening farmer institutions and investment in appropriate infrastructure.