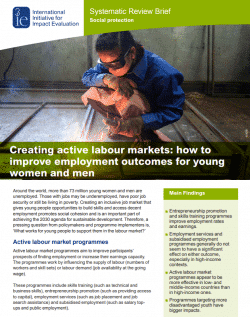 Policy highlights:
Around the world over 73 million young women and men are unemployed. Creating an inclusive job market for young people is part of the 2030 agenda for sustainable development and requires social cohesion. This brief review explores the question, 'What works for young people to support them in the labour market?'
Youth employment programmes positively impact the probability of youth gaining employment and their level of income. Entrepreneurship programmes had the greatest impact regarding increases in youth participation and income. Employment services and subsidized employment programmes had no effect on either the probability of employment or level of income.
The effectiveness of employment programmes is context-dependent; active labour market programmes appear to be more effective in low- and middle-income countries than in high-income countries. This is partially due to expertise in such programmes – and their implementation by either governments or NGO's – being higher in low-income countries.
Evidence-based policy should not apply evidence uniformly, but adapt it to different contexts. Interventions that are appropriate for tackling unemployment, underemployment and low wages for young women and men will vary according to specific contexts. Furthermore, programmes are likely to be most effective if coordinated in the context of a holistic policy or commitment to youth development within a given funding round.
Policymakers may be able to make their programmes more effective by: 1) focusing on the most disadvantaged youth, as targeting this group has shown greater effectiveness of employment programmes; 2) considering local and national contexts in determining what interventions to implement and in which combinations; 3) combining supply and demand interventions, including skills training, entrepreneurship promotion and employment subsidies.