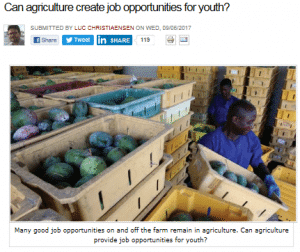 Policy highlights:
As countries urbanize and incomes rise, food expenditure is declining as a share of total spending, shrinking the share of farming jobs. While the majority of youth say that they see their future outside agriculture, many good job opportunities remain in agriculture, both on and off farm. The challenge is to make the agricultural sector and its up and downstream activities competitive through innovation, public investment in supportive rural public goods and services, and secondary town development to make them sufficiently attractive to young and older farmers alike. This remains a largely unfinished agenda, but one that is important to reach the twin goals of eradicating extreme poverty and boosting shared prosperity. ICTs can offer solutions to these challenges; for example:
1) Mechanization can increase productivity, but there are many challenges to mechanizing the region, including access to finance, the timely availability of support services and attaining scale. However, temptations to subsidize mechanization should be resisted to ensure that the process remains compatible with market forces, as revealed through factor price ratios (labour over capital and labour over land).
2) ICTs can also improve agronomic practices by facilitating extension. More importantly, they can increase farmers' access to markets (old and new) and improve their bargaining position, enabling them to get a better price for their produce.
3) Further opportunities are emerging within urban areas themselves, where agriculture is increasingly developed and produces jobs.
4) Most new and good jobs in agriculture will be generated down and upstream. Demand for aggregation, storage, processing, logistics, food preparation, restaurants and other related services are becoming increasingly important in the larger agri-food systems and will open up significant job opportunities. In Southern and Eastern Africa, they are predicted to absorb about one quarter of the labour demanded by farm agriculture over the coming decade.
Agri-business incubators and different approaches towards innovation can help prepare youth and women to take up these jobs. This blog presents some effective examples of these kinds of initiatives in the African context.