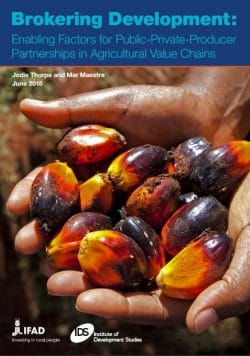 Policy highlights:
A public-private-producer partnership (PPPP) is a cooperative mechanism through which development actors (public) work with companies (private) to improve the way that agricultural markets work for small-scale farmers and rural communities (producers).
PPPPs have been established to improve market access and conditions in rural areas with the aim of increasing farmers' incomes and promoting broader rural development.
PPPPs can be seen as a variation of current chain models rather than a radical change. They provide opportunities for farmers, but also raise implementation challenges.
Based on case studies in Uganda, Rwanda, Ghana and Indonesia, eight factors contributing to the success of PPPPs were identified:

a clearly defined rationale and assumptions within the partnership;
the presence of a market pull;
farmer ownership of the PPPP;
trust and incentives within the partnership;
risk identification, distribution and mitigation;
capacity to respond to complex market changes;
public accountability and transparency;
making sure the PPPP facilitates a sustainable market system.