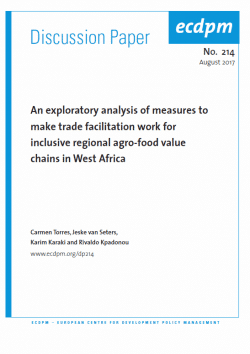 Policy highlights:
West Africa is increasingly importing food from outside the region. To address this issue, trade facilitation and infrastructure improvements can reduce high transaction costs, but should be combined with other interventions to ensure that such facilitation benefits regional value chain development and intra-regional trade. This study looks at how initiatives focusing on trade facilitation can be made more transformative by combining them with other development measures. It focuses on the value chains for rice and livestock
A main challenge is the fact that the West African rice sector is dominated by small family farms. However, the intra-regional local rice trade is likely to be more important than official figures suggest, as a substantial share of informal cross-border trade in Sub-Saharan Africa concerns local staple food commodities. Corridors primarily serve the transport of rice imported from outside the region, benefiting regional consumers, but potentially undermining regional producers and supporting broader value chains and economic development in the long term. Livestock production in the Sahel is dominated by smallholder production using traditional breeding systems. These are not able to respond to growing demand, as sector-wide shortcomings limit the overall number of animals available for commercialization. In addition, the marketing channels can be quite complex, involving numerous transactions and intermediaries.
Promoting regional agro-food value chains requires coordination and synergy between different policy areas like agriculture, trade, private sector development and infrastructure development. Four measures are recommended: 1) link corridors to production/agro-processing areas and key markets (this is especially relevant to the livestock sector), 2) develop a strategic knowledge and communication agenda – a knowledge agenda on informal markets makes it possible for policymakers to address these markets adequately and effectively, while market information enables value chain actors to inform business decisions; effective communication will ensure the coherence of information based on, for example, trade maps and Market Information Systems, 3) support effective regional public-private cooperation platforms and value chain actors – these can inform interventions and can be accompanied by mapping for specific support for local actors based on their needs and likely impact, and 4) contribute to a stable, conducive and transparent trade policy environment – in the absence of such an enabling environment, efforts to improve corridor performance could end up entrenching existing trade patterns, or even promoting increased consumption of agro-food imports from outside the region, at the expense of regionally-produced products.