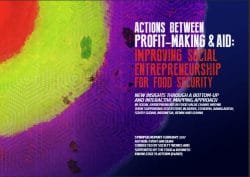 Policy highlights:
Social entrepreneurs often work in areas in which private sector actors, public sector actors and civil society are less efficient or interested to act. They combine aid with profit making and are willing to take greater risks to increase their social impact. These entrepreneurs deal with more complex challenges and risks than others, which should be recognized when supporting them. Social entrepreneurs need to be met with different expectations and policies. Approaches should not be one-size-fits-all, but suited to their specific organizational form, mission, finance, target group(s), and support mechanisms
The key findings of the study, which included 152 social enterprises, indicate that 1) social entrepreneurs in the food/agriculture value chain face specific challenges (like mistrust among previously exploited populations and entrepreneurs' and employees' low skills and illiteracy), 2) have limited impact in terms of employment (most employ less than ten people), but relevant social impact, and 3) often receive no external funding. (less than half of this sample does)
Organizations can support social enterprises by: 1) providing financial (adjusted to the funding needs of these unique enterprises) or non-financial (skills, advice, technology) support, 2) increasing access to funding services, for example by facilitating intermediary organizations, and 3) supporting and coaching entrepreneurs in their efforts to self-organize to find solutions as a group.
Governments can support social enterprises by: 1) identifying them as a separate category in company registration (to increase recognition and build relationships), 2) considering them for public procurement strategies – these may be a bit more expensive, but the social impact among vulnerable groups could be high – and 3) considering what policies may be harmful to social entrepreneurs (such as subsidized agricultural inputs in locations where social enterprises act as local input suppliers). Private sector actors could see social enterprises as strategic actors, based on their experience with inclusive business models and their embeddedness in communities. Cooperation could also facilitate social innovations along the value chain.
All actors and stakeholders should be sensitized to the unique added value of social enterprises in the domains of food security, private sector development, employment creation, and inclusive business models. This will allow for more strategic partnerships, better impact measurement tools and institutional support.