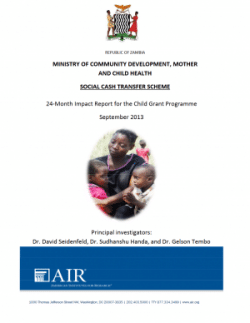 Policy highlights:
In 2010 Zambia began implementing the Child Grant Programme (CGP), a social cash-transfer programme that targets households with children under age 5 and provides each household with 60 kwacha ($12) a month. Large-scale impact research shows the CGP has generated positive impacts on a range of indicators, listed below.
Consumption expenditures: the CGP has increased total per capita consumption spending by ZMW 15.18 ($1.5) per month.
Poverty reduction: extreme poverty has been reduced by 5.4%. The largest impacts are on the poverty gap (10%) and squared poverty gap (10.8%).
Food security: the CGP has yielded an 18% increase in households that are not severely food insecure.
Young children: the programme has a strong impact on reducing diarrhoea (4.9%), but no other health outcomes have been found.
Older children: large impacts have been found on material well-being, but the programme has no significant impact on education outcomes.
Productive impacts: the CGP has increased the amount of operated land by 18%, the overall value of harvest by ZMW 146, and the ownership of livestock by 21%.
Impact on labour: the programme yielded a 17% increase in households working in the non-agricultural sector. Ownership of business assets, monthly profits and months in operation have also been increased.
Local economy: the CGP has a significant multiplier effect (1.79 income multiplier). Ineligible households receive ZMW 0.62 for each ZMW given to beneficiary households.